Columbia University Student Health Insurance Plan (Aetna) for Therapy
As a student at Columbia University, you have access to their Columbia Plan student health insurance. All students must have insurance coverage - whether that's through the Columbia Plan or an outside insurance plan through a family member. Luckily, this insurance plan covers mental health services - so seeing a therapist doesn't have to cost as much as your tuition!
Read on to learn how much coverage the Columbia Plan offers for therapy services and how to find the therapist right for you. If you have the Columbia Plan, find NYC-based therapists in-network with the Columbia Plan (through Aetna), therapists on the Upper West Side, or therapists offering online sessions in New York state on Zencare.

What is the Columbia Plan?
The Columbia Plan is the student health insurance plan at Columbia University. This plan is serviced by Aetna, a large insurance company. All students are automatically enrolled in this insurance plan and must waiver out if they do not wish to use this plan. All international students must enroll in the Columbia Plan. This plan begins in August and ends the following August, even if you graduate during that time.
The insurance premium, or how much you pay to get this insurance, depends on your program. For 2020-2021 coverage, Morningside students paid $3676 for one year of coverage, whereas students at the Teachers College, Jewish Theological Seminary, and Union Theological Seminary paid $4563.
Does the Columbia Plan cover therapy?
Yes, students enrolled in the Columbia Plan do not have to pay for therapy on their own - the insurance plan will cover some of the session costs. However, how much the Columbia Plan covers depends on many factors, all of which are explained below.
How much does therapy cost with The Columbia Plan?
Therapy sessions' costs depend on whether or not your therapist is in-network or out-of-network and what type of provider they are:
While you do not have a deductible for in-network providers - meaning that you don't have to pay a certain amount before the insurance kicks in - there is a $600 deductible for out-of-network providers. If you're seeing an out-of-network provider, you will have to spend $600 of your own money before insurance will start to help you out. (However, this is the deductible across all medical care, not just for mental health services.)
Often, your therapist or therapy office will be able to tell you how much you will owe each session - they may ask you for your insurance information so they can check that you're covered before your first session.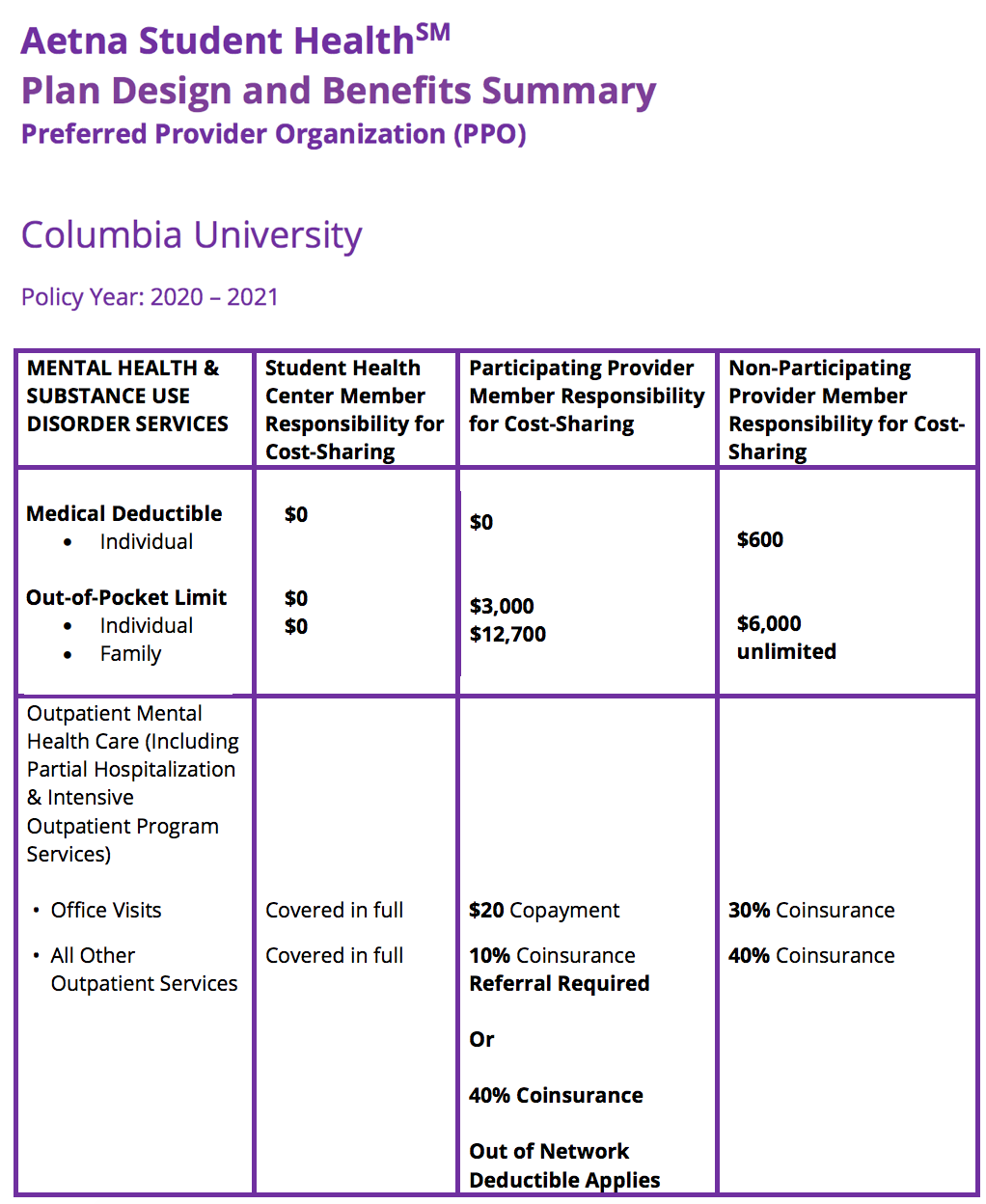 What mental health conditions does The Columbia Plan cover?
Some mental health conditions that The Columbia Plans covers include:
Note that therapists are required to assign you a diagnosis for the above conditions, as well as share the diagnosis with your health insurer. If you are concerned about your parents or guardians finding out information about your reasons for seeking therapy, therapists who offer a sliding scale may be a good option, too.
What types of therapy does The Columbia Plan cover?
The Columbia Plan covers most types of therapy, including outpatient and inpatient therapy services, as well as different types of therapy approaches, including:
Any therapy type that is evidence-based and utilized for the purposes of diagnosis and treatment of mental health conditions should be covered by The Columbia Plan.
What types of therapy does The Columbia Plan NOT cover?
Like most insurances, it is not typical for The Columbia Plan to cover services unrelated to a diagnosable mental health condition, such as:
Does Columbia Plan cover online therapy?
Yes, it does. Because most therapists are only conducting sessions over the phone or online, the Columbia Plan does cover online therapy. Note that you must find a therapist who is licensed in the state where you reside; you can find online therapists licensed in New York who are in-network with the Columbia Plan here.
Do I need to go through the Columbia Health Counseling and Psychological Services  first before seeing an off-campus therapist?
If you have the Columbia Plan health insurance and would like to see a non-campus therapist, you will first need to speak with a staff member at the Counseling and Psychological Services (CPS) office. However, this might be a quicker process than you think! CPS has designated social workers to complete a brief interview and give you an external referral. With that referral, you can then begin the process of finding a therapist that offers the type of therapy you're looking for.
The only exception to the external referral process is if you're looking for a therapist over 50 miles away from campus - then you will not need a referral and will not have to pay the out-of-network price per session!
Does the Counseling and Psychological Services office provide any free counseling services first?
Yes, they do, and not just for students with the Columbia Plan! Students with any health insurance can make an appointment with Counseling and Psychological Services therapists, who provide short-term therapy.
When should I seek off-campus instead of on-campus therapy?
There are three common reasons why students choose to seek off-campus therapy:
To avoid long waitlists for on-campus therapists: Because of the demand of the free therapy services through Counseling and Psychological Services, there is often a lengthy waitlist – which means that you may not be able to start your therapy for weeks or even months after requesting an appointment. For this reason, many students decide to find an off-campus therapist who can accommodate them sooner.
To build a long-term relationship with a therapist: If you believe that you would benefit from long-term or continued therapy, finding an off-campus therapist from the beginning may be a better option so that you don't have to start from scratch again once you use up the short-term sessions offered to you on-campus.
To engage in specialized therapy that on-campus therapists do not offer or to find a specialist: Certain specializations may be harder to find on-campus due to the short-term nature of on-campus therapy sessions. These may include certain therapy types such as Eye Movement Desensitization and Reprocessing Therapy (EMDR), which can be effective for trauma, or for concerns such as eating disorders, obsessive compulsive disorder (OCD), and addictions.
How many therapists are there close to campus that take this insurance?
There are many therapists in the Morningside and surrounding areas that take the Columbia Plan insurance! We've listed them out to help you search for a great, well-qualified and vetted therapist.
Find vetted therapists who are in-network with Columbia University Student Health Insurance Plan (Aetna)