First Health for Therapy
First Health is a health insurance company that provides coverage for over 5.5 million members, making it one of the largest networks in the country. First Health is a subsidiary of Aetna Inc, and offers their members access to excellent therapists across the country.

Does First Health cover therapy?
Yes, First Health covers therapy services for its members. However, because First Health is such a large health insurance company, they offer many plans across the country and the mental health benefits will vary depending on which plan you have.
For individuals who have First Health, seeing a therapist who is in-network with First Health is typically the most cost-effective option, as you'll pay less out-of-pocket.
How do I check if my First Health plan covers therapy?
To check if your First Health plan covers mental health services, locate your Summary and Benefits document online and search for the therapy rate. On your Summary and Benefits, you might find this under "outpatient mental health" or "outpatient behavioral health" services. From here, you can figure out the copayment or coinsurance rates — and calculate how much of the session fee is your responsibility.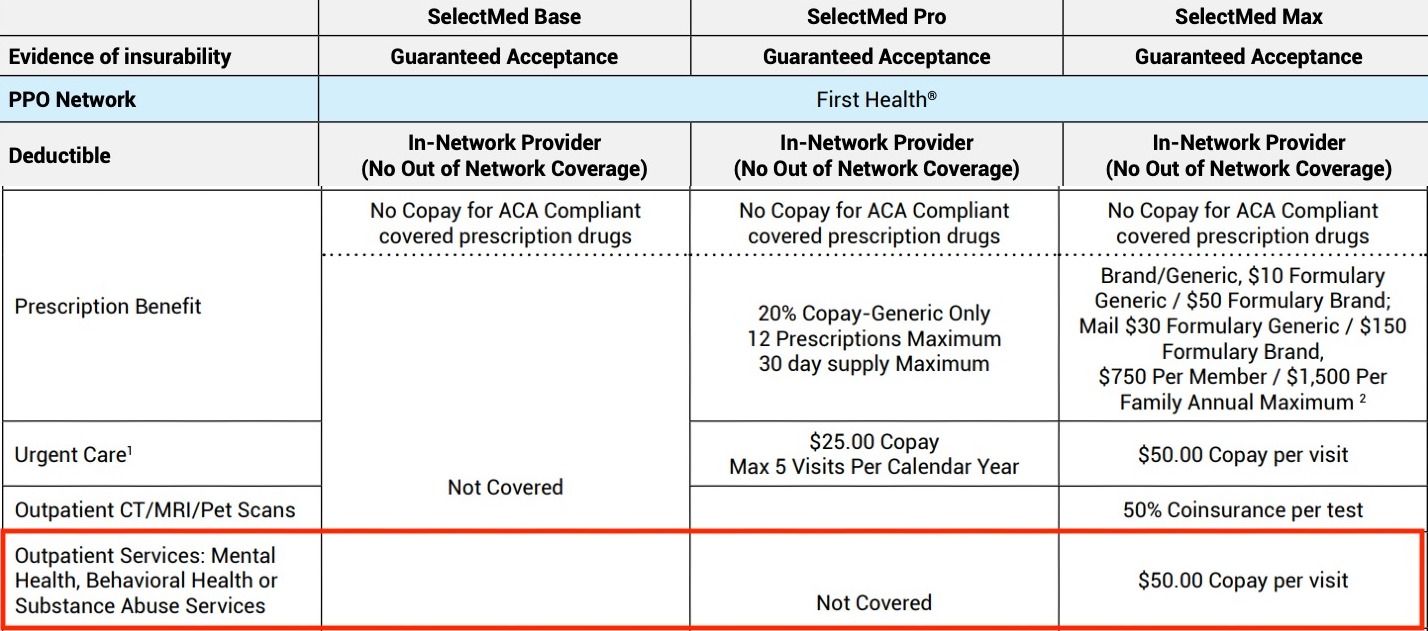 If you cannot find the Summary and Benefits document, call the customer service hotline number on the back of your insurance card. The First Health agent will share with you information about your mental health benefits.
How much does therapy cost with my First Health plan?
When you see a therapist within the First Health network, you may have a copayment of around $50/session, though the cost for therapy depends on which plan you have. There are many plans offered through First Health, which vary based on family size and geography, and result in a different copayment. First Health does not provide coverage for out-of-network therapists.
What types of mental health conditions does First Health cover?
First Health insurance covers services for many mental health conditions. To reimburse therapists or clients, First Health requires that the client receive a diagnosis from their therapist. This diagnosis guides treatment and the insurance coverage.
Examples of eligible mental health conditions include:
What types of therapy does First Health cover?
As long as the therapist provides an evidence-based, clinically rigorous therapy modality that is appropriate for the given diagnosis, First Health will provide coverage.
These evidence-based therapy modalities include:
There are many more types of therapies — and often, therapists blend modalities into their own approaches, all of which are covered by First Health. First Health requires its providers to have the appropriate credentials and trusts that these providers maintain high professional standards.
What types of therapy does First Health NOT cover?
First Health does not cover life coaching, career counseling, or holistic treatment modalities like aromatherapy. It also does not cover energy work such as reiki healing.
Does First Health cover online therapy?
First Health covers online therapy so you can see your therapist from the comfort of your home rather than in their office. This makes mental health services accessible and safe for everyone. First Health coverage remains the same, whether you see your therapist in-person or online — so whatever your copayment was when you saw your therapist in-person, it will continue to be.
However, it's important to check your First Health plan before you start online therapy to confirm that First Health covers teletherapy.
Does First Health cover couples therapy?
No, First Health does not cover couples therapy. This is partially because it's difficult to provide that diagnosis for the mental health condition as required by many insurance companies for reimbursement.
However, if you're still interested in working with a couples therapist, there are ways to access couples therapy on a budget.
Do I need to see my primary doctor before starting therapy?
First Health mainly offers PPO plans, which means that you will not need to receive a referral from your primary care physician before you start your search for a therapist. This saves you time and money — it also gets your mental health journey started as soon as you're ready!
Find vetted therapists who are in-network with First Health