UnitedHealthcare Medicare for Therapy
UnitedHealthcare is one of the largest health insurance companies in the country, insuring nearly 10% of the market. They offer many Medicare plans, which take the federal and state Medicare program and add its own coverage and benefits. Instead of getting Medicare directly through your state, individuals can sign up for a Medicare plan through UnitedHealthcare, which opens up their networks to include thousands of excellent therapists.

Does UnitedHealthcare Medicare cover therapy?
Yes, UnitedHealthcare Medicare provides coverage for mental health services including therapy with a qualified professional. UnitedHealthcare dedicates itself to providing care for the whole person, which includes finding emotional wellbeing. For this reason, and because of the federal Medicare mental health policy, UnitedHealthcare Medicare includes many mental health benefits.
However, the amount of coverage for each therapy session will vary based on your specific UnitedHealthcare Medicare plan.
How do I check if my UnitedHealthcare Medicare plan covers therapy?
Each UnitedHealthcare plan comes with its own Summary and Benefits document. The Summary and Benefits document lists out the coverage provided for each service type, usually in a line-by-line format. This makes it easy for you to figure out how much therapy coverage your UnitedHealthcare Medicare plan allows — and to calculate how much therapy will cost you. When you find your Summary and Benefits document, which is generally found online through your UnitedHealthcare portal, look for the "mental health outpatient" line. There, you'll find the coverage rates for both in-network and out-of-network therapy visits.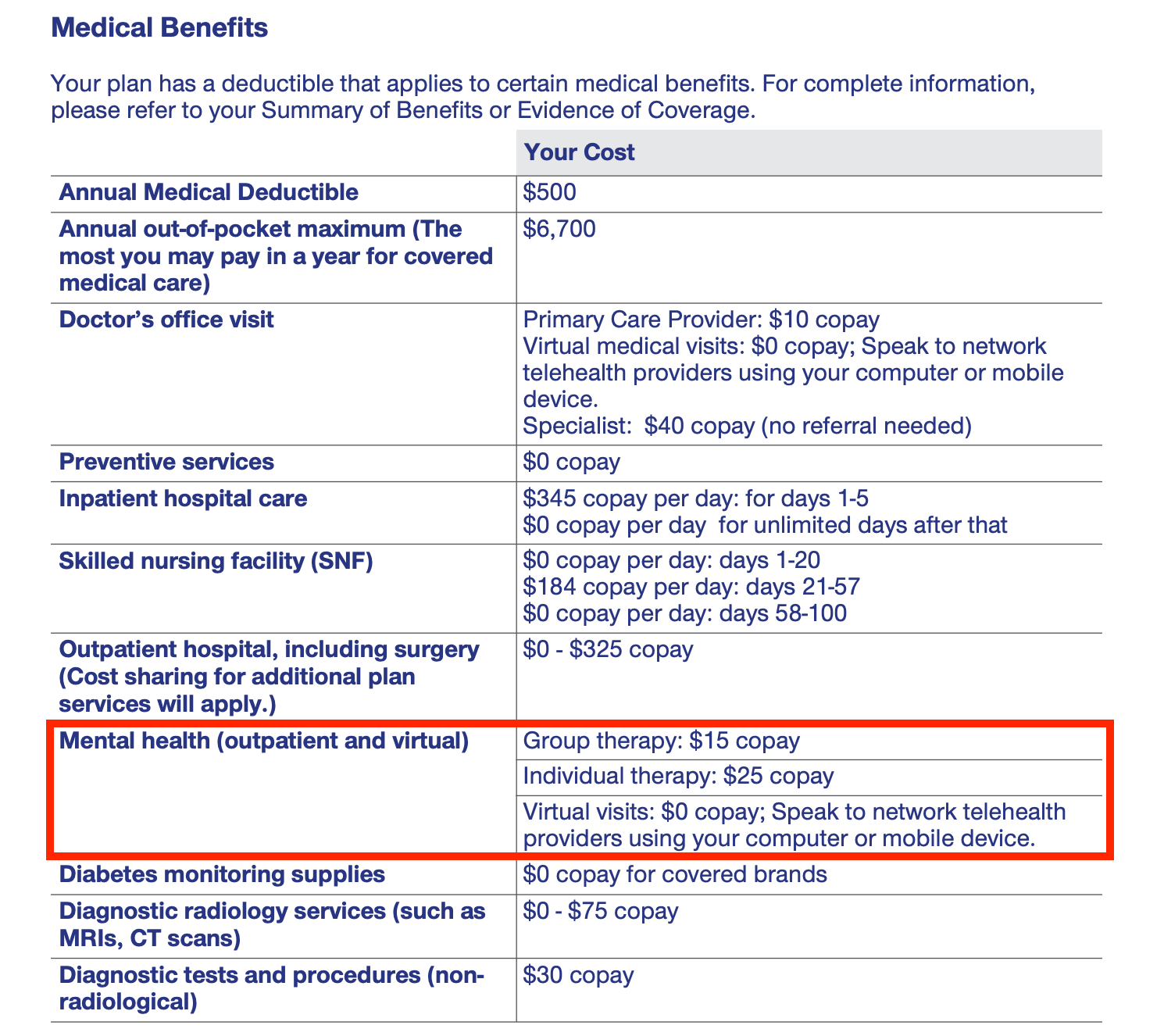 You might also call the phone number on the back of your UnitedHealthcare Medicare card to learn more about your specific plan details and mental health benefits coverage. You'll speak with a UnitedHealthcare customer service representative who can answer your questions.
How much does therapy cost with my UnitedHealthcare Medicare plan?
Expect to pay a copayment of between $10 - $60 each time you see your in-network UnitedHealthcare Medicare therapist. UnitedHealthcare Medicare provides less coverage for out-of-network therapists, so you may find your costs increasing if you choose to see a therapist that is not within the UnitedHealthcare network.
The cost per therapy visit using your UnitedHealthcare Medicare plan will vary based on your location, UnitedHealthcare Medicare plan, and your provider's status. Because Medicare is a state-run program, your UnitedHealthcare Medicare plan will look differently depending on what state you call home.
You may also be required to obtain preauthorization before starting to see your therapist. UnitedHealthcare may approve you for a certain number of therapy sessions that they'll cover, then the rest may be up to you to pay for out-of-pocket.
What types of mental health conditions does UnitedHealthcare Medicare cover?
UnitedHealthcare prioritizes mental health for its members and wants therapy to be accessible for all. To this point, UnitedHealthcare Medicare health insurance plans provide coverage for a wide range of mental health conditions. These conditions include:
When you start therapy, your therapist will designate a diagnosis for your condition, situation, or goals. They'll share this diagnosis with UnitedHealthcare as a way of accounting for coverage. If you would prefer that your therapist doesn't disclose your diagnosis with UnitedHealthcare, consider your out-of-network options. This way, your mental health care stays between you and your therapist — not the insurance company and anyone who has access to your insurance account information.
What types of therapy does UnitedHealthcare Medicare cover?
It's important and vital to UnitedHealthcare that all mental healthcare is based on evidence, clinical rigor, and the given diagnosis. This is a way of ensuring appropriate care and reimbursement for each of its members. They provide coverage for all therapy modalities proven to reach healthy and desired outcomes, including:
Often, therapists use blended methods as they individualize treatment for each client. As long as the therapist is professionally credentialed and provides appropriate therapeutic services, UnitedHealthcare will cover therapy sessions.
What types of therapy does UnitedHealthcare Medicare NOT cover?
If a therapy approach is not evidence-based — that is, it lacks empirical research backing its efficacy — UnitedHealthcare Medicare will not cover therapy costs.
This includes life coaching and career coaching, as these disciplines are less based on mental health diagnosis and more on goal-setting and achievement. UnitedHealthcare Medicare does not cover holistic approaches to treatment such as aromatherapy, massage therapy, or nutritional therapy. They also do not cover ketamine and psychedelic treatments, even if the purpose of this treatment is for a mental health condition. UnitedHealthcare Medicare does not cover energy work such as reiki healing.
Does UnitedHealthcare Medicare cover online therapy?
Yes, UnitedHealthcare Medicare provides coverage for online therapy and telehealth. You will find that your coverage will remain the same for all visit types, both in-person and online. This means that you'll have the same copayments and coinsurance rates if you see your therapist through a virtual platform as if you saw them at their office.
Seeing a therapist online is a great way to add therapy into a packed or limited schedule. It also makes it easier to access, as you can speak with your therapist from the comfort of your own home. UnitedHealthcare Medicare recognizes these benefits and therefore offers its members use of teletherapy services.
Does UnitedHealthcare Medicare cover couples therapy?
No, UnitedHealthcare Medicare does not provide coverage for couples therapy. The majority of health insurance plans do not offer this as a benefit. This is in part because it is difficult for the therapist to bill for reimbursement under the required mental health condition diagnosis.
If you're still interested in couples therapy, there are many ways to make it more affordable. This opens the door for you and your partner or partners to work with a high-quality couples therapist and grow your relationships.
Do I need to see my primary doctor before starting therapy?
You may need to see your primary care physician before starting therapy, depending on your UnitedHealthcare Medicare plan. The UnitedHealthcare Medicare therapy requirements vary based on your state and the exact details of your plan, so be sure to check whether you need to attain a referral for therapy services before you begin your search. In general, if you have a HMO health insurance plan, you will need a referral and therefore need to visit with your primary care physician ahead of your therapy visits.
However, if your UnitedHealthcare Medicare plan does not require a referral — such as PPO or EPO plans —  you can begin your search for a great therapist as soon as you're ready!
Find vetted therapists who are in-network with Medicare (through United Health)