Premera Blue Cross for Therapy
Premera Blue Cross is a health insurance company that provides coverage for residents of the Pacific Northwest. Their parent company is Blue Cross Blue Shield, which means that Premera Blue Cross members have access to a large network of high-quality therapists. Premera Blue Cross offers mental health benefits including therapy coverage.

Does Premera Blue Cross cover therapy?
Yes, Premera Blue Cross health insurance provides coverage for mental health services including therapy. Premera Blue offers many different plans, therefore the amount of coverage varies. It's most cost-effective to see a therapist within the Premera Blue Cross provider network, which can be found within the Blue Cross Blue Shield network. Premera Blue Cross still provides some coverage for out-of-network therapists, however it will be more expensive for you.
How do I check if my Premera Blue Cross plan covers therapy?
To determine your out-of-pocket therapy costs, check out your Summary and Benefits document through your Premera Blue Cross online portal. The Summary and Benefits document shares specific coverage rates for specific services — including outpatient mental health visits.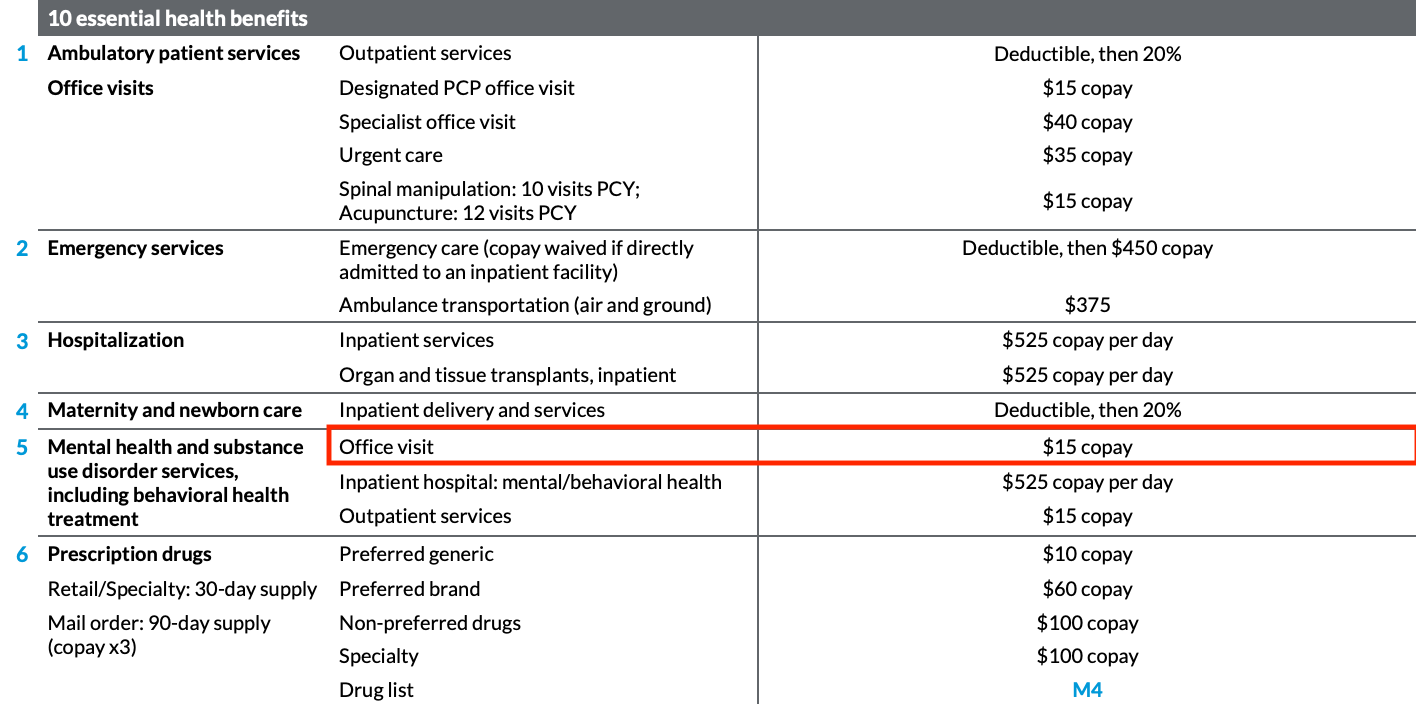 You might also call the phone number on the back of your insurance card to reach a Premera Blue Cross customer service representative. This customer service representative can share with you information about your mental health benefits and answer your questions.
How much does therapy cost with my Premera Blue Cross plan?
While the cost of your therapy visits will depend on your specific Premera Blue Cross plan, expect to pay a copayment of between $15 - $50 per visit with an in-network therapist. After your deductible, you may have a coinsurance rate of between 20% - 40% per visit.
To confirm the cost of therapy, check out your specific plan's coverage information before you begin to see your therapist.
What types of mental health conditions does Premera Blue Cross cover?
Premera Blue Cross health insurance covers services for many mental health conditions. To reimburse therapists or clients, Premera Blue Cross requires that the client receive a diagnosis from their therapist. This diagnosis guides treatment and the insurance coverage.
Examples of mental health conditions include:
What types of therapy does Premera Blue Cross cover?
Premera Blue Cross requires that a licensed and credentialed therapist provide evidence-based, clinically rigorous therapy to be eligible for reimbursement.
These evidence-based therapy modalities include:
There are many more types of therapies — and often, therapists blend modalities into their own approaches, all of which are covered by Premera Blue Cross.
What types of therapy does Premera Blue Cross NOT cover?
Similar to other health insurance companies, PHCS does not cover life coaching or career counseling — this is because coaching is generally based upon goals rather than a diagnosis. Magellan Health also does not provide coverage for holistic treatment modalities like aromatherapy or massage therapy. It does not cover energy work such as reiki healing. Premera Blue Cross does not cover weight loss counseling that does not fall under a mental health diagnosis.
Does Premera Blue Cross cover online therapy?
Premera Blue Cross covers online therapy for some of their health insurance plans — but not all of them. For the plans that offer an online option, the coverage rates remain the same as if you saw your therapist in-person. Online therapy is a convenient, accessible way to work with a therapist, which is a huge reason many clients prefer to see their therapist through an online platform rather than in the office.
Premera Blue Cross also offers its members access to TalkSpace, a mental health resource for online therapy.
Does Premera Blue Cross cover couples therapy?
Some of Premera Blue Cross plans offer couples therapy benefits. Check your plan's coverage and exclusions to confirm this benefit. Often, health insurance companies do not provide coverage for couples therapy because couples cannot receive a mental health condition diagnosis.
However, there are still many ways to access affordable, excellent couples therapy. Find vetted, high-quality couples therapists on Zencare and ask about sliding scale if you and your partner or partners might benefit from seeing a couples therapist.
Do I need to see my primary doctor before starting therapy?
Premera Blue Cross offers PPO and EPO plans. This means that you do not need a referral from your primary care physician before starting your search for a great therapist. Without needing a referral, you're free to begin your mental health journey when you're ready!
Find vetted therapists who are in-network with Premera Blue Cross