How to Find a Therapist
Finding a therapist can seem like a daunting and overwhelming task. It's important to find someone who has availability, is licensed in your state, and works with your budget. Beyond that, you'll want a provider that you feel comfortable with, whose approach to therapy suits you, and who you'd potentially like to see long-term.
At Zencare, we've been through the therapy search ourselves. That's why we've designed a modern website that streamlines the search process for others. We have thousands of therapists nationwide available in our directory, and one of them could be a great match for you. On Zencare.co, you can find a local provider for in-person or online therapy, and watch a video to get a sense of their style and personality. After you find a great fit, you can send the therapist a secure message or schedule a free phone consultation before your first appointment.
If this is your first time looking for a therapist, follow these tips to find the right match for you.
How to know if therapy is right for you
With the right provider, anyone can benefit from therapy. Many people begin working with therapists when they meet the criteria for a mental health condition like depression or anxiety. Others begin working with therapists because they want to improve their well-being, or they want to start building healthy habits. Many people simply enjoy having another person in their support system.
If you are feeling overwhelmed by your emotions, therapy might be right for you. Many people begin therapy when they feel excessive amounts of anxiety, start crying without warning, or feel particularly disconnected from their loved ones. Therapy can also be helpful after major life changes, like a break-up or a cross-country move. Any time is a good time to start a relationship with a mental health professional, and there are many surprising ways that therapy can benefit you!
How to find the right therapist
While there are thousands of therapists across the country, not all of them will be the right fit to become your therapist. There are many ways to narrow your search to find someone that you would work well with, including filtering by therapy approach, like cognitive behavioral therapy (CBT) or speciality, like trauma or couples counseling. Logistical factors are also important filters, including session fees, insurance, and availability. The right therapist for you will fit your budget and schedule, and will have the training and experience in helping clients through a similar situation to yours.
One of the most important factors in finding the right therapist for you is the potential for mutual trust. The therapist-client relationship, also called the therapeutic alliance, is one of the most important factors of  the client's experience. Before booking an appointment, it can be helpful to schedule a free consultation call to get a sense of a provider's personality and approach.
It can be helpful to reflect on what you're looking to accomplish in therapy before you begin your search. You may think about what type of person you feel most comfortable speaking with, whether that might be a queer-affirming therapist or a provider who shares your racial identity.
How to search for a therapist online
To search in the Zencare therapist directory, begin by entering the Zencare website.
Where are you searching?
State: Start by searching for providers who practice in your state. Therapists' licenses are state-specific; they may only practice in the state they are licensed in. If you are interested in virtual or online therapy, a therapist must be licensed to practice in your state, but they don't need to practice in your city. You can filter for a specific state on the homepage or on the search bar at the top of the site on the search page.

City: If you'd like to see a provider who offers in-person sessions, you can use the search bar at the top of the website to look for your specific town. Click on the "in-person" tab to see providers who offer sessions in your area. You can also use the map to see what providers have offices nearby.

What type of care are you seeking?
If you don't know the answer to this, don't worry. You can continue your search by clicking the magnifying glass.
Narrow Your Search: You can use the six buttons at the top to narrow your search. You can filter by mental health approach, insurance, profession, speciality, provider identity and more.
Availability: Providers with the blue banner are accepting new clients. The yellow banner indicates a waitlist, often 2-3 weeks long. Providers with a red banner are typically unavailable for new clients, and are listed at the bottom of the search page.

Learn more about a therapist
Provider Profiles: Click on an individual provider's profile to learn more about their training, specialities, and treatment philosophy. You can watch their introductory video to hear their voice and get a sense of their personality. Profiles highlight the therapist's fees, availability, and experience.
Use the favorites feature: If you're considering multiple therapists, use the favorites feature to save their profiles. You must have a Zencare client account to use this feature — you can create an account here. To save profiles, click on the heart next to a therapist's name. Once you're logged into your client account, you can view your favorited profiles in the Zencare portal.
Message a provider: Log into your Zencare client portal to send a provider a secure message by clicking "Message Therapist" on the therapist's profile. Some providers use our phone consultation booking tool; if you see a calendar on the right side of the profile, you can use it to book a phone call directly.
Respond to a therapist: When a therapist answers your message, you'll receive an email prompt to log into your client account. You can view their reply in the messages tab of your client portal, and respond if needed.
Reschedule a phone call: If you've booked a phone consultation with a therapist but you need to reschedule, you can log into the client portal and select a new time.
How to find a therapist within budget
Knowing your budget for therapy is an important part of the search process, and can help you set financial expectations and boundaries for yourself.
Before you start looking at therapists, consider how much you're able to spend on therapy. It's easy to filter by a therapists' fees on the Zencare site through our insurance filter. Even if someone is private pay only, you may be able to submit for out-of-network reimbursement from your insurance company and receive a portion of your session fee back — these are called out-of-network therapy benefits, and many insurances offer them. Out-of-network therapy benefits vary depending on your plan, but some clients are able to earn as much as 75% of the session fee back from their insurance company. Therapists can help make this easier for you if they directly communicate with your insurance provider or offer superbills.
If private pay therapy is out of budget for you, there are many therapists that offer low-cost sessions, including sliding sale sessions. You can also search for providers who are in-network with your health insurance.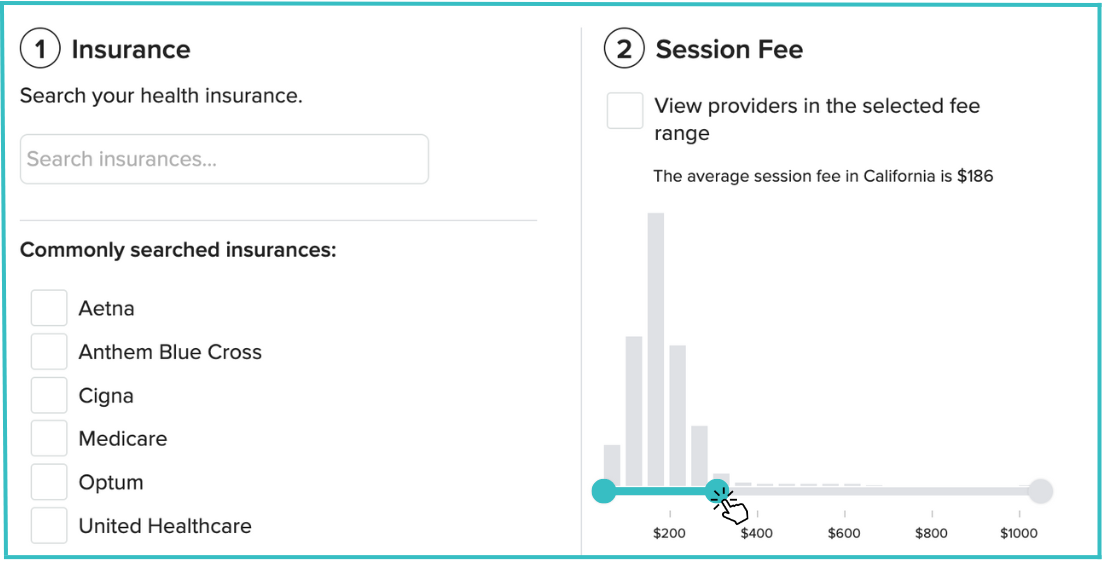 How to find a therapist covered by insurance
If you'd like to find a provider that is in-network with your health insurance, the first step is to understand what your plan offers. You can refer to your health insurance plan's Summary of Benefits, which will list out in detail the coverage options for mental health services. If you have questions about the benefits that your plan offers, you can call your insurance provider for more details.
Zencare also has taken a deep dive into insurance plans from around the country to help you understand their mental health coverage. Find your insurance provider on our list, read relevant articles to learn more, and find in-network providers in your state.
For a detailed explanation of insurance terms, including copays, deductibles, coinsurance, and out-of-network reimbursement, see Zencare's guide to Health Insurance for Therapy.
Once you understand your health insurance coverage, you can search for in-network providers in your state by clicking on the "insurances" filter and selecting your plan. If in-network providers are accepting new clients in your area, they will appear at the top of the search. Click on their profiles to schedule a consultation, and be sure to verify insurance coverage during your initial phone consultation.
Additional Resources
Articles about starting therapy
Additional resources
Sign up for our newsletter, and receive mental health and wellness tips.
Logging into Zencare
If you are seeking therapy, you can sign up for a client account or log in to your client account if you've already created an account.