Optum for Therapy
Optum is a healthcare company that offers over 200 different health insurance plans. Optum is a subsidiary of UnitedHealth Care. Its network is vast and includes 80 percent of hospitals across the country and over 100,000 provider clinics, including 240,000 in-network therapists.

Does Optum cover therapy?
Yes, Optum plans cover behavioral and mental health services. This includes individual therapy coverage within their provider network as well as access to the UnitedHealth Care's Live and Work Well resources bank where you can find educational material about mental health conditions, resources for fitness and wellness, and important therapy coverage information for your specific Optum plan.
Optum plans do not cover out-of-network therapy, so if you see a therapist that is not in the Optum network, you will be responsible for the entire session fee.
How do I check if my Optum plan covers therapy?
To check if your Optum plan covers therapy, locate your Summary and Benefits document. This document lists out how much you'll pay for specific medical services, including mental health treatment. Within your Summary and Benefits, look for "Specialist Visit" or the line indicating mental health visit coverage.
You'll likely find this document through your Optum online account. However, if you aren't able to find it, call Optum customer service phone number on the back of your insurance card. Ask them about your plan's therapy coverage, including what your copayment will be for each session.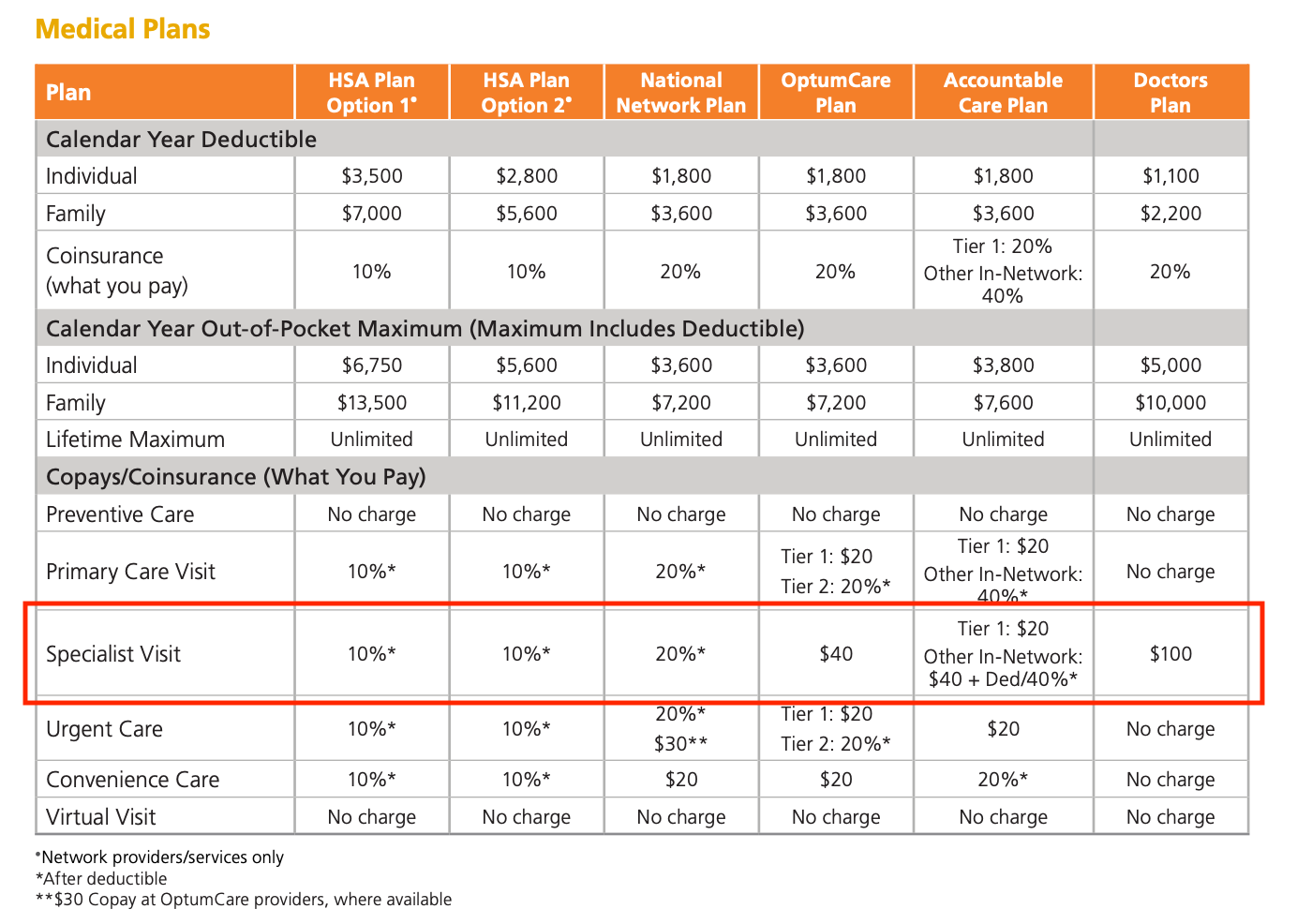 How much does therapy cost with my Optum plan?
Because Optum has hundreds of insurance plans available for individuals and families, the cost for therapy varies widely. Some plans require payment of a copay, such as $20 or $100 per session that you'll pay each time. Other plans require you to pay a percentage of the session fee, such as 10-20%. These payments are often not included in your deductible.
If you're concerned about paying for therapy, ask your therapist about sliding scale options. If your therapist offers sliding scale payments, you may be eligible to pay a lowered fee per session.
What types of mental health conditions does Optum cover?
Optum mental health benefits include treatment for the following mental health conditions and more:
When you start therapy with an Optum in-network therapist, they will designate a diagnosis for your condition or goals. They'll share this diagnosis with the insurance company to ensure coverage. This is essential for coverage of your therapy sessions.
What types of therapy does Optum cover?
Optum covers many different evidence-based therapy approaches and modalities. This includes but is not limited to:
Optum requires that therapists provide a diagnosis-based therapy modality appropriate for the mental health diagnosis. If you would prefer that your therapist doesn't disclose your diagnosis with Optum, consider your out-of-network options. This way, your mental health care stays between you and your therapist — not the insurance company and anyone who has access to your insurance account information.
What types of therapy does Optum NOT cover?
Optum does not cover therapy services that are not evidence-based to treat a mental health condition.
This includes life coaching and career coaching, which focus more on goal-setting and achievement. Optum does not cover holistic approaches to treatment such as aromatherapy, massage therapy, acupuncture, or nutritional therapy. They also do not cover ketamine and psychedelic treatments, even if the purpose of this treatment is for a mental health condition.
Optum, as a healthcare company, is dedicated to the idea of data-driven behavioral health practices. While they value ground-breaking techniques, they remain staunch in their requirement for scientific rigor.
Does Optum cover online therapy?
Optum does cover online therapy. The coverage offered for online therapy sessions is the same as the coverage granted for in-person visits, so there will be no changes to your copayment costs, whether you meet with your therapist online or in-person.
Does Optum cover couples therapy?
No, like most health insurances, Optum does not cover couples therapy sessions. To confirm that there is no coverage for couples therapy, call the customer service number available for your plan.
There are still ways to access couples counseling even if your insurance does not cover it. Here are five ways to pay for couples counseling.
Do I need to see my primary doctor before starting therapy?
For some plans that are Health Maintenance Organizations (HMO), you will need a referral from your primary care physician before seeing a therapist. Other plans, such as Preferred Provider Organizations (PPO), do not require a referral. This means that if you have a PPO Optum plan, you can start your search for an in-network therapist when you're ready.
Find vetted therapists who are in-network with Optum