Tufts Health Plan - Commercial Plans for Therapy
The Tufts Health Plan is an insurance company that provides Medicaid, Medicare, employer-sponsored, individual, and family health insurance coverage for residents of New England. They have a wide range of plan types, all of which offer mental health benefits such as coverage for therapy visits.

Does the Tufts Health Plan cover therapy?
Yes, the Tufts Health Plan provides coverage for therapy services. However, the amount of the therapy cost they cover depends on your unique health insurance plan. Because Tufts Health Plan is a large health insurance company that functions across different states, they offer many different types of plans. This means that coverage for outpatient mental health services also varies widely.
While you may need preauthorization before your mental health coverage begins, all Tufts Health Plan plans have some mental health benefits.
How do I check if my Tufts Health Plan covers therapy?
To check if your Tufts Health Plan health insurance plan covers therapy services, head over to your Summary and Benefits document. You'll likely find this document through your online Tufts Health Plan account or within the paperwork sent over to you once you began as a member. Within this document, you'll find the different rates of coverage — including copayment or coinsurance amounts — for each type of service available. Look for "outpatient services" under mental or behavioral health to see your coverage for therapy.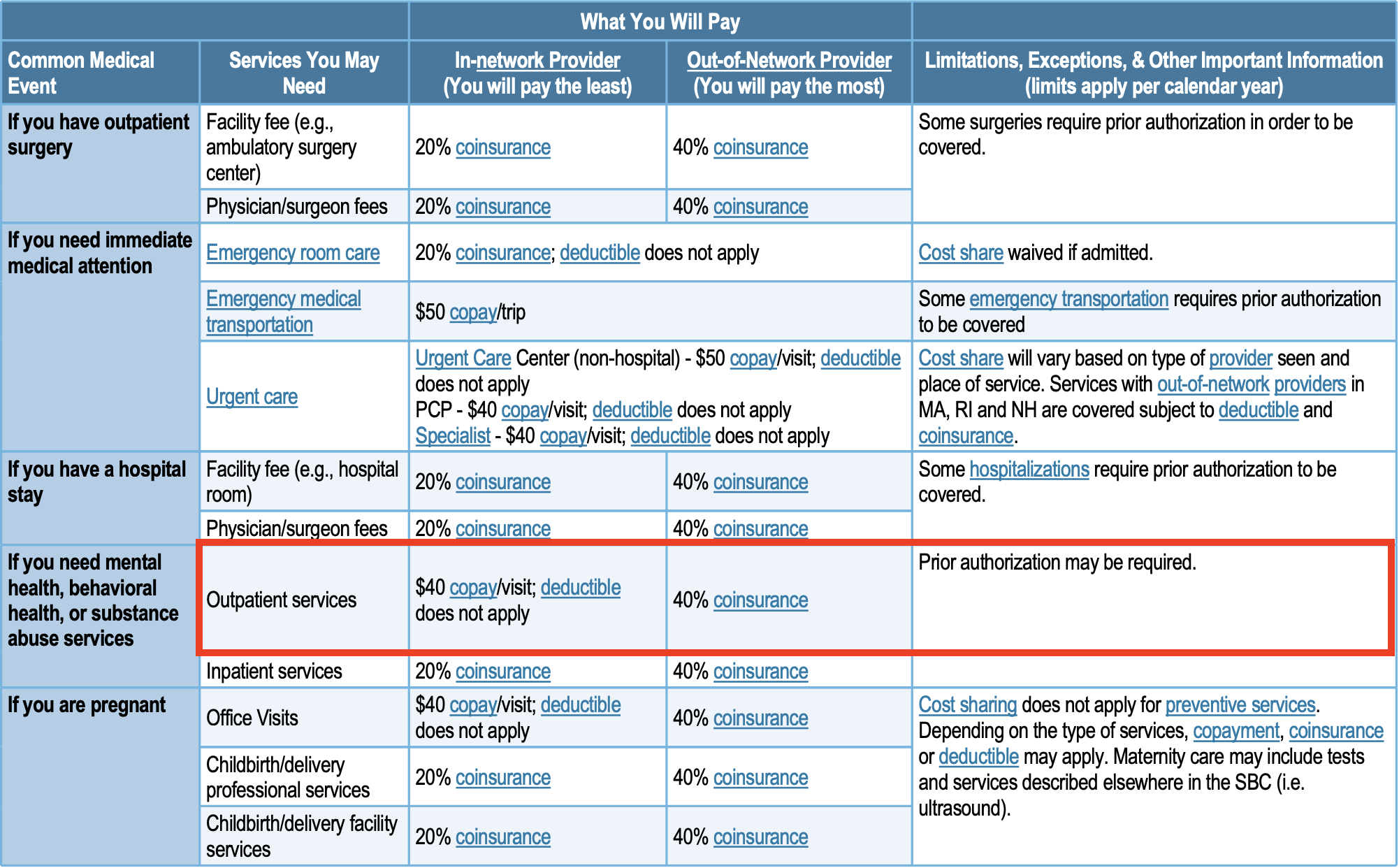 If your Summary and Benefits document does not share this information with you, give the phone number on the back of your insurance card a call. The Tufts Health Plan customer service department will share with you the coverage available to you through your plan and answer any questions that you have regarding your benefits.
How much does therapy cost with the Tufts Health Plan?
While Tufts Health Plan plans differ based on the member's state of residence and the type of plan, expect to pay a copayment of around $40 each time you see your in-network therapist. The cost per session with out-of-network therapists may be around a 40% coinsurance rate — so you'll pay 40% of your therapist's session fee. This means that if your therapist charges $150 per session, you'll pay $60. If your therapist charges $250, you'll pay $100.
Because Tufts Health Plan offers so many health insurance plans, how much you pay for therapy out of pocket varies depending on your plan, location, and the therapist you see. While Tufts Health Plan provides coverage for both in-network and out-of-network therapists, it's typically most cost effective to see a therapist that's in-network with Tufts Health Plan, as these services generally have a lower copayment or coinsurance rate.
Some Tufts Health Plan plans, like Medicare or Medicaid, have much greater coverage and members with this type of plan will pay less for therapy services. To find out your specific out-of-pocket expense for therapy, search your Summary and Benefits document for your plan's details.
What types of mental health conditions does the Tufts Health Plan cover?
Tufts Health Plan provides coverage for a wide range of mental health conditions. To reimburse therapists or clients, Tufts Health Plan requires that the client receive a diagnosis from their therapist. This diagnosis guides treatment and insurance coverage.
Examples of eligible mental health conditions include:
There are many more diagnosable — and reimbursable — mental health conditions, all of which Tufts Health Plan covers.
What types of therapy does the Tufts Health Plan cover?
Tufts Health Plan covers many different types of therapy performed by credentialed mental health professionals. As long as the therapist provides an evidence-based, clinically rigorous therapy modality that is appropriate for the given diagnosis, Tufts Health Plan will provide reimbursement for services.
These evidence-based therapy modalities include:
Often, therapists will blend their approaches and use multiple modalities in their treatment. As long as the therapist meets all requirements, their services are eligible.
What types of therapy does the Tufts Health Plan NOT cover?
Tufts Health Plan does not cover life coaching or career counseling, as these are generally based on goals instead of clinical rigor. They also do not cover holistic treatment modalities like aromatherapy, massage therapy, or non-medically required acupuncture. There is no coverage for energy work such as reiki healing. Hypnosis, ketamine, and psychedelic treatments are also not covered, even if in treatment of a mental health condition.
Tufts Health Plan requires therapists to be professionally credentialed and offer evidence-based treatment appropriate for the diagnosis.
Does the Tufts Health Plan cover online therapy?
Yes, Tufts Health Plan offers coverage for online therapy. This opens the doors for many clients who aren't able to physically attend therapy sessions each week. It also makes therapy a convenient, simple component of a weekly routine without having to commute to the office.
Your coverage for therapy costs will remain the same, whether you visit your therapy in-person or online. This includes the same copayments and coinsurance rates.
Does the Tufts Health Plan cover couples therapy?
Some of the Tufts Health Plans offer coverage for couples therapy. It depends on the plan, so be sure to check out your specific plan's details to learn more about your options. Generally, health insurance plans do not cover couples therapy. This is partially because there cannot be a diagnosis to base the reimbursement upon. However, some Tufts Health Plan plans may provide coverage at the same or differing rates as individual therapy.
Many couples still benefit from seeing a therapist together. If your Tufts Health Plan health insurance plan does not include a couples counseling benefit, there may be ways to decrease the cost of couples counseling, such as sliding scale.
Do I need to see my primary doctor before starting therapy?
Whether or not you need a referral from your primary care doctor before starting therapy depends on the type of plan that you have with Tufts Health Plan. If you have an HMO plan, you will need to attain a referral for specialist services from your primary care physician. However, this is a straightforward and common process that should not hinder your access to mental health services.
If you have a PPO plan, you will not need to see your primary care physician before starting therapy. This means that you can begin your therapy journey with a great therapist as soon as you're ready!
Find vetted therapists who are in-network with Tufts Health Plan (Commercial Plans, not via Mass Health or Navigator)